Part-Time Program
This program follows the Humble ISD district Calendar
Our Part-Time program
offers an opportunity to both children and moms. It is for children 18 months to 5 years old. The goal is to allow parents time to run errands or work while their children are in the care of our loving staff who provide a structured and fun-filled day for their child.
Availability
Schedule options are:
Par-Time Hours: 8:30am – 2:15pm
The following Day options are made available
(3 Day) Monday, Wednesday, Friday
* Please see enrollment packet under the enrollment tab for tuition rates*
In our registration packet, we ask you to fill out a form about your child's academic, social, and spiritual behavior in order to learn more about them so we can provide a specialized experience and help them grow in God.
Our Vision: Passing the Torch of Faith (Deuteronomy 11:18-21)
"We believe that bestowing the knowledge of Christ and instilling His faith in our children, that they may be a light of their generation."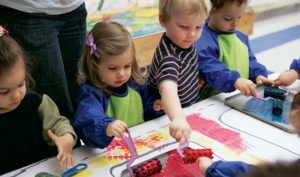 Fall/Spring Session
Our Early Childhood Center fall/spring session runs from August to May, offering your child the opportunity to learn and grow in Christ through the fall, winter and spring.
Our Fall/Spring Session consists of:
Weekly Chapel

Weekly Bible Lessons

Christ based curriculum

P.E. for Ages 2 & Up

Gym and Playground Time

Making Friends and Memories

Music Classes
Summer Session
Lamb of God offers an 6-week part-time summer session, during which children will have fun in the sun, while still learning about the blessings of Christ. The summer session starts mid-June and ends mid-August.
Our part-time Summer Session consists of:
Weekly Chapel

Weekly Bible Lessons

Morning & Afternoon Snack and Lunch

Gym and Playground Time

In-house Field Trips

Weekly Themes & Crafts

Making Friends and Memories

KidsPool
Policies
Late Pickup:
Late pick-ups will be charged $1.00 per minute for each child after 2:30 p.m. After the third time, the fee increases to $3.00.
Payment Schedules:
When an insufficient check is received, you MUST then make the payment by cash or money order. A student may not be admitted to class after three returns in one session. Students will not be admitted to class if tuition has not been paid or acceptable arrangements made for payment. Re-admission for the following session will not be allowed for children of families who have unpaid balances on tuition and fees.
Withdrawal:
We require a one-week written notice upon withdrawing a child from the program. If the next month's draft has already occurred, there will be no refund.
Tuition, fees and schedules subject to change without notice. All holidays have been included for all session tuition prices. No credits or make-up days given for tuition or early drop off.