Our Full-time 4's Program
Our Full-time 4's program is designed for students who have turned four years old as of September 1. The preschool for four year old's combines social activity, advanced academic study, and spiritual guidance into an exciting and enriching experience.
Our curriculum creates the foundation and helps advance student's knowledge, allowing them to understand and learn more complex concepts. We continue to reinforce and review academic areas upon which future knowledge will be built.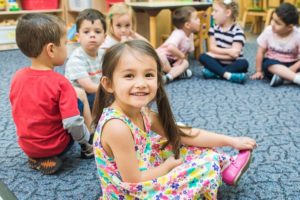 These academic focus areas integrated by the Horizons curriculum are:
Social Studies Units

Science Units

Phonics

Basic Number Math

Handwriting

Introduction to Reading
These academic focus areas are the building blocks of future education and will contribute to your child's academic success.
We integrate our Religious Curriculum to help our children experience and grow in the love of Jesus.
We offer a number of special programs for preschool 4's:
Chapel

Art

Music

Computer Lab

Outdoor Play