Welcome to the Lamb of God Lutheran Early Childhood Center . Here, we offer loving and secure daycare programs for infants and toddlers, and preschool programs for children between the ages of 2 and 5. Our program was built with the idea of offering children a variety of learning experiences within a Christian environment. We provide opportunities for children to learn about Jesus Christ, our Lord and Savior, activities to develop a healthy self-concept, and experiences which fulfill spiritual, intellectual, and physical needs of our students.
These social activities help the children develop and grow. We believe that it's never too early to start an education based on a relationship with Christ.
Our goal at Lamb of God is to provide opportunities for children to:
Learn about Jesus as Lord and Savior

Develop a healthy self-concept

Participate in activities that fulfill spiritual, intellectual and physical needs

Excel academically and increase aptitude and readiness for future school work
We aim to strengthen every child's bond with Christ, growing their love of God, and nurturing your children, helping them grow in the beginning of their lives. Our message of love and spirituality is meant to help your child grow and blossom.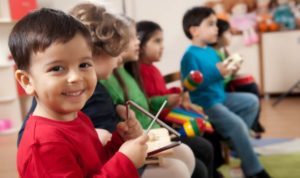 Top rated school in Humble, TX!